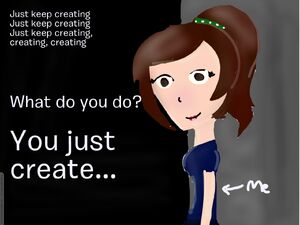 She doesn't wanna put too much personal info and stuff... But she will tell you she loves art!
DCFs
She'll be DCFs with anyone, but her best DCFs are: Shinewolf306, Katebith (Met her on this Wiki! :D), Zuesdemigod2002, Mockingjay1001, Candifloss and Jessie_Grl. (So sorry if anyone is missed)
My thoughts on DC
I think Disney Create is an epic site where kids of all ages can show off their art and get fans! Sometimes I get frustrated when my art isn't published, but I'm glad Disney moderates the art to make it kid - friendly.