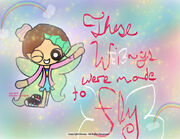 When Rob the officer went to tell the head officer that they needed to bring this exstrondinary baby to the hospital for some test she wanted to take Lia's jacket off but Lia started to push him off her jacket and start to fight him.But Lia was to little no way was she going to win the fight but she tryed but then out of no where the cop turned frozen but quickly melted because she was in Florida where it was really hot and when Lia did that she thought she had to an Ice fairy.Lia got really excited and pumped up and she try to do it again but it didn't work instead flowers appeared out of his head.Now Lia still fighting the officer Rob off her jacket was thinking am I Ice or Nature fairy I can't be both! Eventully confused and tired the officer finally got Lia's jacket off.But Lia was smart and hid them under her shirt.At the hosital they did many test but there was a really horrible thing they found out she didn't have a birthcertificate and they also found out she had wings.Now they are hiring private investigaters to find out where I came from and who is my mom.The worse part about it I had to have my wings removed.Also I almost forgot for my wing removal they are going to study them and do painful test and I am going to go to Washington DC for the sugery before I know I will be on the front page of the newspaper before my first birthday.Why do I have such a stressful life at a week old and I thought teething was painfull! Now I am at Washington DC in the hopsital.Ok they just gave me a thing to let me sleep but but but but.............. (Snores) Her doctor David Harforg was trying to remove her wings and they came out but they couldn't pull them completly out and they still had a little bit of wings showing.After they did the surgery I should have woken up, well she didn't.They thought she was in a coma but the moniter told other wise and the moniter was going crazy and it wasn't telling them anything and all the moniter said on there that looked right were her heart beats and then a week later she finally woke up.The doctors had no idea what to think, they had a baby who had wings and mysterlously sleeps for a week!
Guys I know this is a really short part but I can't write any more and don't forget if you want to read more than post it in the comments! See part 3 soon!
Fairy photo but this is NOT how Lia looks!