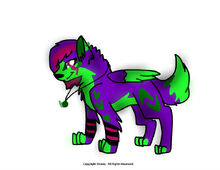 This is your user page. Please edit this page to tell the community about yourself!
Welcome!
Hello! Welcome to my page! 
If u want to know what websites I go on, well, here's the link:
I also go on Club Penguin and Animal Jam.  My username are Smartdazzle on both of them...lol
I play Wizard101 too!
The back story of my username
You must've wondered how I got my username on DC.  Well, make some popcorn and find a place to sit while I tell the story.  Okay, here it goes.  Waaaaay back around 2011 of September (That's when I found out about DC!).  I was trying to make a d-name for like, hours! I wanted the word smart somewhere in my username. But all of the d-names I tried where already taken!  So, when I got up to get something to drink, a commercial came up. It was a Shoedazzle.com commercial!  After seeing commercial, my lightbulb turned on and I zoomed back to the computer (forgetting about the drink I wanted, which was fruit punch flavored kool-aid. lol) and typed up the d-name like, crazy-fast! "dazzlesmart? Nah. dazzlesmarts?  No way, moving on! smartdazzle? I love it, so unique! Well, hopefully.." I clicked enter, closed my eyes, and held my breath. After like, a minute passed by, I slowly opened my eyes but still holding my breath, looked up at my screen, and said: "Yeeeeeeeeeeeesssssss!!!"  The End.
Some facts about meh!
1) I play soccer (mainly goalkeeper and defender)
2) Favorite colors are Teal, purple, neon green, jade green, and dark green!
3) I have brown hair and eyes.
4) I am smart (haha, get it? My d-name?)
5) I have a hearing disability (born deaf) so I use this device called the Cochlear Implants in order to hear. (look it up for more info)
6) I love art! (duh)
7) I used to use the laptop mouse pad. but on Christmas of 2011 (My first christmas on DC!) I got a tablet and drew a pic of me in PPG style saying: First tablet drawing! (<---heading) "Yay! I got a tablet! Thanks Santa!" So yea, I now use a tablet drawing which is a Bamboo Create tablet.
8) Can't think of anymore info to tell ya! plz comment below if u want to know something more about me!  /)(-3-)/)