Theyashd
Theyashd is a very popular artist with over 4900+ fans. She ended her years on disney create almost making to 5000 fans. She has a lot of styles including anime, PPG, realistic, and the occasional MLP.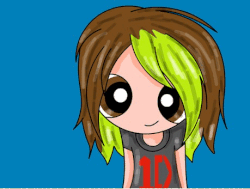 How long have I been on DC
I started when I was in 4th grade and I have been drawing ever since. I have seen a lot of great artists come and go and I will always miss the one that left.
What style do I use
I was first inspired by Earthgirl1001 to draw PPGs but now that I have pratically mastered that I try to draw more detailed art like Anime, or a new style - I make up sometimes, I will make chibi's too.
Where do I get Inspirstion from
Most of the time I look to Vocaliods for inspiration. Sometimes
I'm inspired by other DC artist, or I just amke up as I go!
My DC BFFS
When I first joined, DC BFFs didn't really exisit, so when I was first asked to be friends with someone I thought it was like clicking a "add to friends" button, but now I have tons of DC BFFS! I don't think I can list them all!
Some of my DC friends I have talked to are, Teddyfluff19, Lovelykaye, Allykat-11, Lilyblossom7789, Shelbybeagle, Crystalshard, Zuesdemigod, Mockingjay1001, Candifloss, Lilli2004, Kittykatlove99, Pinkshimmer16 ROCKY-COOKIE, Elegantly Art 1 and many more (sorry If I didn't mention you)
Highlights
A question I get asked a lot is, "Are your highlights real?" This is mostly asked becuse MANY PPG artist "have" highlights. Now I don't know if they really do or not but it shouldn't matter that much. I think you should be able to draw what you want yourself to look like.
To answer the question, Yes, I do have highlights. They arn't permanent but I do have a green streak across my bangs. It only last for a day so have to keep re doing it.
Highlights or no highlights you chould still draw what you like and other people shoudn't judge you for that.
Hipstercrew the first DC group account
In the summer of 2012, 5 girls who shared one thing in common- the love of drawing- met on Instagram and Deviantart. They soon began to text eachother. One day one of the girls had an idea to create a group DC accout. We agreed on the name Hipstercrew and we texted eachother the account info. Soon Hipstercrw was live and running. It took a while but we finally got our first picture approved. Later we accepted 2 more memebers into the group. Later, it got banned.
All the artists in hipstercrew are,
Theyashd (Me)
Allykat-11 ( Creator if Hipstercrew and the one who had the Idea)
Lillyblossom7789:/
Shelbybeagle ( came up with the name Hipstercrew)
Lovelykaye  
Teddyfluff19
Lilli2004
We are not accepting more members. Only beacuse its up to the whole group if we let others join and we already have way to many members.
The Disney Create Club
This is a club created to add some group effort to Disney Create without making group account that have the possibility of being banned.
Memebers: (include everyone who entered my DC Club contest)
Leader: Theyashd (me) Leader Helper: Shelby Beagle Designer: oO_Birdie_Oo Announcer: Warriors_girl18
This club will have many contest and participation activities
---