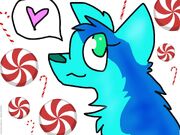 Stars1059 only has about 80 fans and 4000 stars.
Her Art
She does not go on create that often. She mostly draw Dogs/fursonas. She is a silly playful personality.
Style
Her style is somewhat anime. She created her own style without stealing anybody else's.
Characters
Stars1059 has many characters. Her main one is a fursona dog (shown to the right) is Splash.
Her other mascots are:
Candycorn
Candycane
Trixie
Vin
Comic
star
Froot Loopz
Breezy
Duskshine (her mlp)