About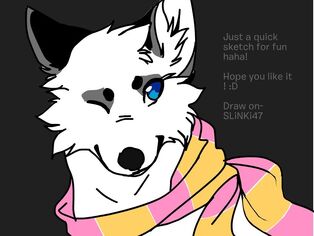 SLiNKi47 is perhaps one of the greatest artists on DC. She holds the record with the most fans, 12,600+, and has 600,000+ stars.
Art Styles
Most commonly draws manga wolves, and there are the occasional manga or chibi drawings. 
Other Info
Slinki is not very active on Disney Create. 
She is also know as "Capukat" outside of the DC community. 
YouTube: http://www.youtube.com/user/Capukat
(Slinki here!)
Lol I draw animals more now :D But you can find me on my dA where I'm most active!
DeviantART: http://capukat.deviantart.com/
Mascots
Slinki's most common mascot on DC is Winter, a wolf. On DeviantART currently it is Capu.