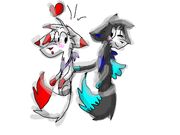 About
She is 11 years old and is in 6th grade.
characters: Lily,Angel,Dash,Chess,and Clarissa who likes Alejandro.
Lily:15 Angel:14 Dash:16 Chess:17 Clarissa:12 I love to draw wolves with friends or by myself. I fangirl a lot too xD
Style
She has two styles: One like petshopface and one of her own.
do NOT edit!
appearance
Well I am tall and i have hazel eyes with long curly dirty blonde hair.
I am shy but lovable
I do have anger problems so don't get on my bad side.
friends
here are a lit of DCBFFs
petshopface
Mist566
PERSONTHATSCOOL
vampireart4
Deniem03
Eclipseowl :D
and many more! feel free to add yourself
Quiz
Fav food?
Fav color?
Fav animal?
Fav artist?
How many real life friends do I have?
How old am I?
Bday?
How many pets?
websites
i am on colors 3d
disney create
(once) instagram
dA (banned)
youtube
thats all
likes
wolves
drawing
gravity falls
beagles
lps
PSF
friends
playing video games
dislikes
cursing
trolls
hate
mean
fighting
drama (but i like drama club xD)
death
inspirations
my first inspiration to draw wolves was a girl on colors named Cat_girl
My inspiration to draw better wolves was petshopface
FAQS
add anything you wanna know about meh here