About
InspireStorm is a popular artist on DC with 2,000+ fans. InspireStorm is a very talented and unique artist. 
Styles
InspireStorm can draw Realistic, Wolves, MLP, PPG, Anime, SC, and Chibi. All of these styles consist of her own style added to it. Inspirestorm is a very original artist.
Image
InspireStorm is 13 years old. It seems that her real name is "Eryn" since that is what she uses to sign her pictures ocassionally. She draws herself with dirty blonde hair with dark highlights and darkish blue eyes. 
Mascots
InspireStorm has created a lot of mascots but not have been used more than once. Her most known ones are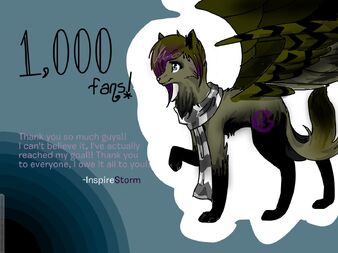 probably... 
- Her wolf "Storm"
- Her SC "Frost" 
- Her wolf "Sage"
- Her wolf "Callie"
- Her wolf "Shadowstar"
- Her wolf "Nightwish"
- Her MLP "RainHeart"
- Her MLP "Sky Dancer" 
- Her MLP "Neon Streak"