This page is to honor the artists who worked so hard, year after year, on Disney Create, and stayed there for it's last days.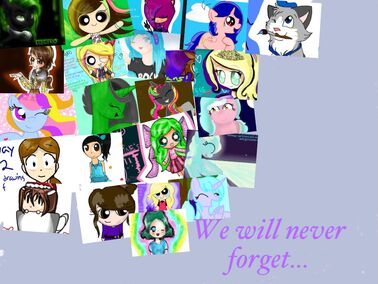 Previous Disney Create artists' note section
Feel free to write a note about what Disney Create means to you below.
"I just managed to find this page and I know that I am quite late for any of this, but I feel like I should pay my respects to DC.
    I have always loved art, whether it be music, dance, and yes, drawing. I was and still am complimented on my skill at art of any sort. I loved that people loved my art, but I wanted more of that love.
    I had a Disney account prior to joining create, for the Pixie Hollow game (which I had also fallen dearly in love with), and the rest of Disney in general. I asked my parents one day if I could do the drawing program on Disney as well, and they, knowing I love art, said yes.
    I still remember my first piece of art. It was a picture of a wolf with wobbly legs howling at an awkwardly large and misshapen moon which appeared to be more like a sad grey cookie, but I loved it. Needless to say, I fell in love with Create as well. 
    I would go on through four more years of sharing art, creating characters, making comics and having a wonderful time expressing myself through art, which I still love to do to this day.
    I clearly remember that my most popular piece was a drawing (however bad) of Papi from Beverly Hills Chihuahua one of my favorite live action Disney movies, which had close to two hundred stars by the end of DC's run. I also remember galaxy tail wolves, my wolf character Rain, and the time I cried when we lost power in our apartment before I could save a Wild Tales comic that I had worked for hours on.
     Through the hardships and the joys of the years that I was on DC, I knew that I could turn to it and the people within it's community to help me. It's a sad loss, and I would wholeheartedly agree with everyone who says that they miss it.
    So I think I should close with this:
    Thank you, Disney, for giving artists a safe and fun place to create and share with others.
    Thank you to all the artists who inspired me and got me to where I am today.
    Thank you to everyone who took the time to look at my artwork, however messy it was, and show that you appreciate me and my work.
     And finally: Thank you, Disney Create, for showing me that everyone is an artist, and that we all have the power to create and change the world through art.

    You will be missed."

-Glitter and Skittles

"I will miss DC so much! Drawing is what keeps me alive, it makes me able to express my feelings and just make me happy! Drawing helps me not to let depression get in the way and DC has helped. So many wonderful artist will never be seen again... Its a very sad matter but of course, we can get through it I know DC means so much to everyone here and if could just get on DC one more time and just say my last goodbye that would make my day the best one a freakish girl named Danny could ever have. LOL I have made so many friends from DC and the wiki has just made it a fecking explosion of happiness XD So many wonderful ppl on here :3 Like Drizzle, AP, Coco, Chibi, and many more. I would like to als thank Lil' Nan for making dah wiki. I WUV U AMERICA AND I WUV YEW DC LONG LIVE THE CREATIVENESS YA LIL FRIENDIES!!! :D :D :D | (• ◡•)| (❍ᴥ❍ʋ)
-Dance-DC
Sometimes we have to enjoy the little moments while we find out it will be our last. It is frightening to see dreams being tossed to the abyss, but there is another light out side of the tunnel. We choose to seek if our time will end or not. For me, I saw this as a new beginning to start a new art journey. It is hard to get people's attention to like my art, but I soon realize it is not to get people's attention to my art work. It is to enjoy myself from doing what I love. If people like or love my art then great, you are awesome and I admire that. I am just trying to improve in my art and ideas so that I can show the world what kind of story and characters I have to offer. It takes a lot of time and dedication to draw and Disney Create had gave me a chance to carry on with this gift. I know in the future I will look back an read this and tell myself I made it where I always wanted to be in life as an animator. Life right now is hard as a college student while righting this right now and I should be doing my Health homework, but it will be worth it and for you as well reading this. Thank you everybody who supported me in my life even in dark times.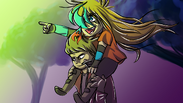 -Chibistar4 (RoixDoix) March 3, 2019
Stroke after stroke, line after line, they created master pieces, that may die on computer, but always will live in our hearts. You can help us by making video of  diffrent artists' art, and something to honor those unknown artist, who never got a chance. ~Iwantpeace
"I loved you DC no matter what. This is where i started drawing and becoming a better artist.  You always been there for me. Best memories ever."
-ChibiChibi22
"We will all miss you DC. You're probably not enjoying this funeral, and you should blame the creators of disney. Thanks for the inspiration! We will always create for you!"
~Eclipseowl
"DC is what brought us together. It was honestly one of the best things that ever happened to me. It's gonna be quick when DC goes, but: " It's not the goodbyes that hurt, it's the flashbacks that follow." - Gray Fullbuster (don't fangirl on this Drizzle xD). It is true, it's going to hurt, but we'll pull through it, and we'll try not to make those flashbacks hurt. ily DC"
~AP110
"You where my safe place DC. The comfort of the warm glow shinning into my eyes. Its like flopping on your bed on a Friday night eating cookies and playing your fav jams. That's how DC was for me. It hurts like a bullet going into my chest that we have to let are dreams go, watch the memories vanish, but they will always live in our heart. So please young artist, dont stop drawing because DC closes down, and never, ever stop creating. <3"
-Iwantpeace
"Disney Create was an amazing experience for me. I learned so much about art and met many great people, which would change my life. Now that's gone, but the memories, the joy, will always remain in my heart, with days of nostalgia and remembrance. But still, we are Disney's Creators, and we will keep creating. In the end, happy times do live forever."
-Mist566
"DC impacted my life a lot. I made so many new friends through it. It also gave me a lot of confidence and happiness :D When I got home from school I got to see all the stars comments and new fans I got. I never would have expected to actually be someones inspirtaton and have people want to be like me ._. 6500+ people. I remember getting a lot of praise on my second picture and it made me so happy I was literally freaking out xD Over two years i've become a way better artist all thanks to starting off on a little website called Disney Create. I dont know but I think without this site I wouldn't be as happy as I am now :3 Curses I keep tearing up as I write this (lol) but I wanna thank all the people who wanted to be my friend and who always favorited my art and left a nice comment or even bothered to look at it. Sorry mine is like the longest note thing but a silly little art website just made my life a whole lot better xD CANDI LOVES YOU ALL AND I HOPES YOU KEEP ON DRAWING EVEN THOUGH DISNEY IS A BUTT FOR SHUTTING IT DOWN <3"
-♥Candifloss♥
"I first found out about Disney Create when I saw a commercial about it when it had just started up, so that means it has been part of my life for a while now. Although most of my first attempts of accounts on there failed, I had still looked forward every day to get home and draw on Disney Create. Through the years my art skills have grown leaps and bounds, and I never would have discovered the one thing I know I am good at, the only thing others recognize me from. Whenever I tried to leave that website I would always bounce back the next day. Now I can't go back. If it weren't for Disney's terminated website I would never have had found the Wiki and I would have never found myself. Art is how I can express my feelings without getting too angry; and who knows what have happened if I expressed my anger or sadness in other, physical ways. Disney Create is what linked different kids (mostly girls lol) to have some sort of contact that they wouldn't of had otherwise. I would have never met my best friends, who helped me grow and become a better person, and gave me all sorts of advice. But now I stay here and look at the empty website called Disney Create and now know that memories is the only part of it that I can grasp."
-Par
"Disney Create was an unforgettable experience for me. Being able to express myself in pictures and being able to share it with a community and get feedback... I never thought I'd find a website like such, but thanks to Disney.com, I did. DC's made me a better artist, and I've made so many amazing friends there. It breaks my heart to think that Disney Create is shutting down, since I've grown up with it. I remember when one of my pictures got 100 views for the first time, I literally flipped. Disney Create's given me many experiences that I will never forget <3 I thank DC for most of my art skills. If it weren't for that website, I wouldn't be as great at art as I am this day.  All the amazing friends I've made there, I thank you all for your support. I'll miss Disney Create like crazy. Thank you, for this long; but unforgettable; journey. ♡"
~123LoveLost♡
"You know, Disney Create made sure I didn't feel lonely. I'm going to really miss it. It gave me opportunities that I probably wouldn't find anywhere else, and helped me express my passion of art. I loved being surrounded by the beautiful artworks of artists ( like on the DC wiki ) and I'm so upset that it's shutting down. In DC, for a moment I felt like I had a life, with friends, and something that could make me happy. <3 Forever Wishing DC could stay forever."
~Coco
"I found Disney Create in early 2013 - an art website that I had never even heard about until then. I loved looking at all of the amazing art by young artists like me. I just had to join, so on March 28th of that year, I did. It has been one of the best experiences I've ever had. Because of Disney Create, I started drawing in new styles (for me, it was PPG, SC, and MLP), I found my love for digital art, and I met so many wonderful and talented artists and friends. I am so grateful for this experience and for all of the people who supported me and who enjoyed my art! I love each and every one of my fans and friends - I would never have gotten this far without you! <3 I will definitely miss Disney Create. So thank you, DC, for everything."
-DiamondMaster :)
"I always knew I could draw, but I never took it seriously until I saw DC. I made an astonishing improvement, with Disney Create. It inspired me to draw, dream and create. I owe a lot to Disney Create. What's more, I have met amazing people with the similar interests as mine over a period of four months- 1st January, 2014 to 1st May, 2014. DC was unique and exceptional. I will never forget it. Create, your memory will ALWAYS linger in my heart. Whenever create a remarkable piece, I think of you, DC. Create is going to live where Pixie Hollow, Toontown and POTC Online are.
R.I.P. Disney Create. "
~WaltDisneysMulan
"If it's time to go, remember what your leaving. Remember the best.My freinds have always been the best of me." ~ the doctor. Disney create is where I stareted drawing, and I fell in love with it. Before, it was just a passtime for when i was bored, but recently i started taking it seriously, but sadly all too late. Thank you for everything, Disney create. Thank you. And you know what? You guys really were the best of me. :)
- Flyingace4
"I am sad to see that Disney Create will be leaving us, I have improved so greatly in drawing thanks to them, I used to be pretty sloppy, but now i am much better, Maybe they didn't approve much of my art, but it's not their fault they have thousands of other art to approve every single day that they usually never make it to me. I never got a chance to become popular nor did my art get on the main page, but maybe I would have had the chance if they stayed open longer. It was also rather fun to look at other people's art in the galleries and they had awesome painter that were so fun! i must not get mad at them that they are closing it so they will have more time to make more apps because Ipods, Iphones, Ipads ETC. are really getting more popular each day. Farewell Disney Create! thank you for making me a better artist!"
-Disney4Disney
"One day, I looked at a website called Disney Create. It was the first time I drew digitally well (although my first piece just had stamps). It was where I learned to draw on a computer. Just like how playing Littlest Pet Shop Online (LPSO, and it's also dead) taught me how to type fast. Anyway, Disney Create will always be part of my mental scrapbook. My mascots will still live (somewhere else). LYDC means Love You Disney
Create!"

-Colorheart (Randomness16648)




"Disney Create ruined my life. It took up so much of my time that my grades dropped to Bs. I hated it a lot, 'kay? But I think it's worth it, now that I've met so many of these nice people who are so different than the people in real life, who always snicker at me, abuse me, and make fun of my Wyoming accent. "

-xXRavenLightXx (Raventhepersonlol)




"Disney Create was the only site that has inspired me to draw. Besides any other drawing site, DC had something in it. It had that feeling that any person of any young or old age could draw. And DC was like the best thing to ever happen to me. I... I just miss it so much! ;-;"

- Spark_eye245 (Totally_me245)




"DC Was Like... The World To Us DC Users, It's Like Without DC Where Could We Draw? It's Upsetting To See DC Just Shut Down Like That! First Pixie Hollow....Toontown......And Sadly DC..... Why Disney? Only Shut Down KERPOOF! DC Is Probably 10x Better Then THAT THING CALLED KERPOOF! Disney Create..... I Only Knew You For About 2 Years On My New Account (2013) Why Saying Goodbye So EARLY?

Disney Create Will Be Sadly Missed....


~Cloetta3~




"DC has to be one of the most memorable things in my life. I loved how it just brought everyone together in one heck of a webpage. I'll never forget those who inspired me, like Supercreations and Pawsies. People like them inspired me to reach to the goal of getting my art on the front page for once xD But DC didn't just have a impact on my artistic abilities, it had a impact on my life as well. I was the weird kid at school, no permanent friends at all, just the ones that would fade away in a year or two. I joined DC about 3 years ago (Around May of 2012) and learned more about art. Art made me happy instead of sad. It changed my life. The next school year, after a summer break of practicing my art skills, everyone was adored by my art. I actually felt wanted in the world instead of just a regular nerd. DC may be closing down now, but I will always remember the everlasting impact it had on my life. Thank you, DC. P.S. I am so ashamed that I got to see my art hub website burnt down in flames in it's Frozen phase .-.

-AnimeWolfForest (Dat.zodizo)




"I wouldn't be who I am without DC. I wouldn't take art as seriously. I wouldn't have all my lovely friends. And most of all, without DC, I would be so bored, I would be willing to do my homework so I have something to keep me occupied. Without DC, I would be drawing creepy people with long nexts and three fingers (that's how I drew before DC). But because of it, I have learned so much without having to pay for proffesional art lessons. I learned how to shade. I learned anotomy. I learned how to add detail. I learned new drawing styles. DC was an inspiration, and without it, I wouldn't be Da1andonlehKLETOM (The one and only, Kletom)!"

- Da1andonlehKLETOM (Kletom)~ <3




"Honestly, the fact that I was curious about DC and its art brings me to where I am now. Seriously, before I even knew about DC, I didn't care for art at all. Also, without DC, would we be all socializing here? No, we wouldn't. Maybe we can come cross each other on dA and stuff like that...but still, DC is what makes us all friends now. Although DC has affected my life in various bad ways as well (such as not concentrating and school and becoming addicted to the internet) it's done all these good things. If I hadn't seen DC artists' artwork...man I'd be terrible at art. I wouldn't even like it because it'd be that hard. DC was only a website, but the artists on there were the ones who inspired me to keep going, never stop improving, never look down on my talent (even though I did in my depression state) and all that. DC was one of my biggest inspirations, and I will never forget about it."

~ Lilderpderp ♡

"Disney create made me a nerd. A total nerd. However I stopped drawing for a while in DC. Instead of DC,I drew on dA. I was on dA for like 2 monthes. Once I got a journal from Mist,it said "DC Is  closing soon!" I didn't believe her at first,but then I thought about it. DC stopped doing the Tinker Bell Game. So it was possible that they could stop DC. 'After 2 days of thinking,DC gave the warning sign of it being closed. I was sad. Mist was correct. Her sign was true. I didn't drew. I thought fast and saved all my drawings before it would be the 30th. 'On the 30th which was two days ago,I thought about myself. And how I grown from 2013 from 2014 April First. I learned how to shade. I learned everything there. Everything that you need to know for drawing. DC was just the basics. Now i'm up to the big guns. dA. Where everybody is a great artist! Where most people there I don't even know!

        ~~ Ghoullycats^w^, Peace DC ~~




"Disney Create will forever be in my heart, ever since I started there in Spring of 2010, a month after I joined Pixie Hollow. My first drawings were usually never published, and weren't the best. I saw many great artists on there. I've probably seen all of the stages the website has been through. Then was the time I became better, around the beginning of 2012. People started looking at my drawings and giving positive feedback on them. I got a graphics tablet then, so I used it, and it helped me a lot, because I was not so good with a mouse. Disney Create was my favorite art site, although I've been looking at deviantArt then. I've seen the DC team add the contests, change the layout to a darker scheme, and add the featured artist of the week feature. But after seeing three Disney Virtual Worlds shut down, in September, I began to worry. The Cars Virtual World had shut down some number of months before that, so that gave me a warning sign. And after "Frozen" was released, the flow of drawings seemed to slow down... Until it stopped. I was wondering, worrying of what was happening. A while back, many artists I loved weren't on anymore.Then it happened. It shut down. Like the last stages of everything, everybody held each others' hands, and closed their eyes. DC was where I learned a lot about digital art, and I'll never forget that. I've made great friends on there, and seeing it shut down put a heavy weight in my body, saddening me. I wished I was on it more. *sheds a tear* Only if there was a second chance. :(

I could probably relate a song to this, it's called 'Don't You Worry Child' by the Swedish House Mafia, and their band broke up. (Why are so many things falling to pieces? Gosh, my eyes are literally watering). In a verse, it says 'Those days are gone, now the memories are on the walls', relating to DC, it reminds me of the days before DC stopped publishing new drawings. And another verse, 'I hear the songs, from the places where I was born.' I think about the nice comments on my artwork, the friendliness of everybody on Create, and DC was when I became more serious of art kinda started off. The line 'Up on a hill across the blue lake, was where I had my first heartbreak, I still remembered how it all changed-' reminds me of DC's old light blue theme, the really old DC, and I never got any drawings published so I was miserable, resembling the 'heartbreak' in the song, and I remember how the site changed from year to year. And the chorus 'Don't you worry, don't you worry child' tells me that I have to accept DC's shutdown. I musn't be attached too much to things like this. I respect Disney's focus is more on mobile apps and CP, and I totally agree. They were probably losing too much money for hosting sites that don't attract much visitors and action, so Create and Disney's virtual worlds except CP closed.

I guess that's all I have to say. I love you Disney Create, and forever, you will be in my heart. You were the birthplace of me being serious about art, and you've done me good. I have flocked to deviantArt for art sharing and Chicken Smoothie to socialize on. But, you, DC, were the reason I got on the computer everyday to check if anything happened. I wish that I could've saved all of the pictures I loved, so I can remember the art of everybody and my beginnings. I wrote long because DC really did mean something to me, and it gave me hope in the art world when I won the "Favorite Musician Contest" with my drawing of Lindsey Stirling from her remix of 'Radioactive'. I thank Disney for giving me the opportunity to do such thing. I only love something if I let it go, and I did. xx"




~LuciaFrostyblossem (Skinnyleanna on wikia)

Disney create is a place where I really learned to excell in drawing. I f it wasnt for disney create, I don't think I would have ever been so deticated to art as I am now. I learned a lot from it and I made so amazing friends. I got soo close to people all over america though a simple website. It makes me glad that I was able to influence so many people around me and share the joy of drawing with all of them. Disney Create will be forever missed by us all.

----Theyashd----- (the_real_theyashd)

Disney Create was the place that helped me love drawing. Believe it or not, before DC I hated drawing and sucked at it too. I'm so glad that drawing's a part of my life and that DC was too. If it weren't for DC and one of my best friends I would just be a drama queen and a terrible artist. I still can't believe my art gave me so many fans expecially since I'm not the greatest artist on a computer. I also am more confortable showing my art to my friends now. If it weren't for DC I would be wallowing in a pit of Hell right now. So thank you to everyone who liked my art and changed my world.

-Wolfie/I_likes_Wolves




Disney create is what tought tought me new drawing styles, improved my skills, and most importantly, introduced me to so many new friends. I will always miss drawing on create, and no other drawing site will be the same.You made me become more commited to art. I will never forget you create. I will always love you.

In loving memory of DISNEY CREATE.

---queendaphnee

"Disney Create, what can I say about it? It was- WILL, be memorable, it will live in our hearts forever. I know it will for me. It was the first website- well what am I saying? It was the thing that got me started drawing.

I never took drawing as a choice in my life, I didn't even really doodle that much. Then one day when I was sufing Disney's games, I found this 'Disney Create". My brother was actually the first one to find Create, drew his horrible(Sorry bro, you know they are terrible) stick figures on the animation app. I knew he drew on this website before, and because I was old enough for it(well everyone was old enough but I didn't know it then), I made my first account. I made a mashup first, with Tinkerbelle and all her fairy buddies, Sora from Kingdom Hearts with his friends in the Kingdom Hearts mashup. Then I started to actually start drawing, making PPGs..and, well, that was it.

My drawings never got approved in that year, sadly, so I just made another account. Deciding on making a PPG drawing saying I was new, it was my REAL first drawing ever seen by the users of DC. That was how I started, with a website called Disney Create. It was the thing that created RedMonkey101. It was the thing that created the artistic side in myself. After that moment with that ugly looking PPG, I moved onto other styles; Anime, MLP, Chibi. 

I then found this wiki, and after a month of watching this grown, I joined. That website, Disney Create, made me what I am today, an artist. I'm super sad to see it leave, I cried when it was annouced, but I wiped the tears away and said my farwells. It was a great website and I made AMAZING friends from it, but what must be done, must be done. So yeah, goodbye Disney Create, I will miss you forever. We all will."

~RedMonkey101 (Also known on the wiki as RedMonkey101 Studios)

I was always passionate about art but digital art!? No way was i good at it! In every art piece i have ever drawn on DC i realize how much i have improved and how better i have become at digital art then before. I remember all those great days when i'd go on DC to see if i got more fans, more comments, stars and to just see new art by other fellow artists who i call FRIENDS. One of the most important part of DC was how we all became friends, even though there was no friend button, we all just connected with the SAMe passion for: ART! DC helped me learn how to..Shade, add details, have BACKgrounds, draw in different styles..It just did SO much to me and now that we know it's gone all those great days are just memories. However i felt, i could just go to DC & Express it all through my art now without it no other website can do the SAMe. ^_^ THanks 4 everything DC, Your user, Samee ^_^ (Aka Sameehagirl11..!)




"Disney Create, I love you. I will always miss you. When I first joined, to be honest I sucked. A lot of the artists on DC inspired me in drawing. Just because it's gone doesn't mean it's still not going to be in our hearts. I have improved so much since I joined DC, and I would like to thank evryone for that. I will always have you in my heart DC!!! <3 In loving Memory of Disney Create."

~cutefunpurple

"DC is where I found my love for art. It helped me practice drawing animals and it's also where I met one of my best friends <3 Even though that website began to get on my nerves, I'll always have a special place for it in my heart."

~Minecraft4everMar

"Disney Create was  my happy place for years.I never made a official account until March 2013.Now it is gone about a little over a year later.I found my love for art, and It helped me draw offline.My first drawing was a picture of Derpy from MLP:FiM. My last drawing was a girl in a sweater.There was a lot of improvement between styles.I hade many inspirations, who are now friends.DC is now gone, But the memory lays in a special place in my heart.I hope everyone who was on DC still draws."'

~DerpyHooves78'

Disney Create was my place to draw. It was my place to make wolf tales and to make anime stories. So many memories. At least we can still have our accounts, but not the same right? I was around before mlp and Baby ruths even became popular! That means 2 years ago. I will always remember the happy memories I had... I will miss u DC.

-Kordella on DC, but Freeworks On wiki

"Disney Create yet was the best thing ever. When I first joined DC, I was drawing humans and OSC's but when I scrolled down to the featured artist's page. The first thing I saw was a blue and green wolf. It was Supercreation's wolf. I clicked on her username and her gallery popped up. While scrolling down at her art, I got a spark of inspiration inside of me. So I tried to draw a wolf and i did pretty well! If Supercreations was never on DC, I probably would've never made the featured artist page, never get over 600+ fans, I would've never draw wolves ever. It's like, Supercreations found my destiny. Destiny was calling me on DC.  That's what it felt like. I would look forward to Supercreation's art everyday I log on and when I o see her art, it would brighten my day.  If DC never got shut down, I probably wouldv'e made my dream DC goal to reach 1,000 fans. Disney Create, if you see this, please put DC back up and we can all be happy and we can keep getting inspirations, new inspirations. May DC be forever remembered becuase I still remember DC by heart, not brain. Farewell, Disney Create. You've made wonderful memories for me and no one can replace those memories...ever."

~ Smartdazzle

"Disney Create, had Good programs to use, yet they closed. They crushed hopes and dreams just for a little more money. They said it was so kids could be more creative and individual. Yet, now they offer mobile games for kids to pick clothes that they didn't even draw on. That's what I call no individuality. Ya know whats even worse, they offer baby games in replace of disney create. As if we would actually want to play GAMES, meanwhile in disney create we made ARTWORK. Disney doesn't seem so happy anymore."

~ emilyiceblue

"To be honest, Disney Create was a horrible program to start with. The programs were difficult to work with, the News Feed never worked, and it felt rather cold and unwelcoming to me. Heck, I released some designs for a comic and a person commented that s/he would make a comic with it "for me"! I never gave anyone permission to use it! It was riddled with art thieves, nothing would ever work, and it would frequently crash.

Yet I stayed.

Maybe it was because I wanted fame or something, I really don't remember. But it inspired me to draw and fed my imagination. It did it horribly, like all the things it did, but it worked. I kind of want it to revive, but with a few...adjustments. (and by that, I need it improve overall performance)"

- PurpleCrystal

"Disney Create is what gave most of us our start in digital art. If it wasn't for that, who knows what most of us would be doing with out lives. We've all made a lot of friends through DC and have a lot of memories with it. If it wasn't for DC closing, some of us would have never found the Wiki or connected through deviantArt. We left it on a good note, though. Although if it did come back we probably wouldn't really use it, I mean, we're all adults and near adults now lol. Plus we've all excelled greatly in our art compared to what we did when we used the crappy little painter. But we still have all of our memories, DC will still live on in all of our hearts!"

- Starry