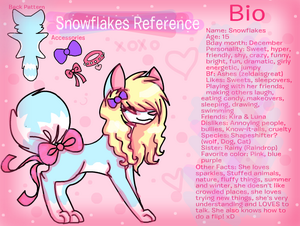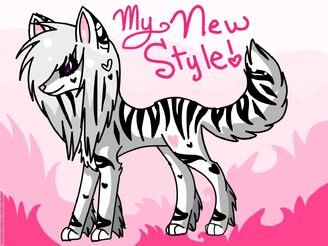 Im_Pawprintz is a popular artist with 1,900 fans and more than 97,300 stars. She is friends with many other wolf artists. Her sister is Pinkshimmer16. She has been on disney for 2 years. She is best friends with artists named Zeldaisgreat and ILOVEMITTENS517. One day, she hopes to be as good as her inspirations.
Style
Her style is somewhat a anime/cartoon style. It changes often though. She reflects girly influence through her art.
Likes and Facts
She likes One Direction, Doctor Who, Sherlock, Supernatural, Pierce the Veil, 5SOS, Neon Indian, LIGHTS, and nightcore. (she likes Tv and music ok) Her fursona is a light blue and white wolf with blonde hair and bows named Snowflakes, who's bf is Ashes. (zeldaisgreat)
Paws is very girly, and tries out various styles every now and then. 
Characters: (46)
Leo
Rainstone
Summer Blaze (mlp)
Mel (PPG)
Candi
Sugar Tart
Zoe
Holly
Thunderbolt
Audrey (mlp)
Song
Buckwheat
Ginger
Topaz
Valentine
Dewdrop
Midnight
Arctic Chill
Key Lime Pie
Stardust
Snowflakes (Official Mascot)
Abigial
Cherry Fizz
Isibel
Raindrop
Highlighter (giving away)
Bubblegum
Sapphire
Sky
Sarah
Spearmint
Sprinkles de'Lish
Rosaline
Berries
Cali
Pinkie
PowderPuff
Mickey
Paws
Blu
Blaze
Royce
Blake
Missy
Static Spark
Holly
Prisma
♥ DC: http://disney.go.com/create/artists/Im_Pawprintz
♥ YT: https://www.youtube.com/channel/UClCfYCgzaUMzzn_scspXW8g
♥ DA: http://fluffeh-pawz.deviantart.com/
♥ IG: http://instagram.com/_ahewqs_