"Hi, I'm Glitterbug02, but you can just call me Glitterbug.-Glitterbug" I'm not the MOST popular artist on DC with 108 fans and 3185 stars, but I'm probably the most imaginative artist on DC! Quick note: If I've mispelled something, feel free to correct it!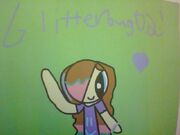 A Tiny Bit About GB02
I've been on DC since Christmas of 2009 and I'm one of the few that have been on DC since it began (shoutout to Seisam25!). I didn't get my first fan until early 2012, so yeah... (I use that a lot!) I reached my 100th fan in July 2013, and my 108th fan on August 3rd, 2013. I draw PPG, MLP, and SC, but sometimes I (try to) draw chibi! I mainly use PPG (I used to mainly use SC, I'll draw SC again soon!).  I use a laptop to draw, but I sometimes use a mouse! I'm really imaginative and I often do my art with a little script like thingy (I have NO clue what to call it...). I'm at times random and things OFTEN pop into my head through out the day. I listen to Radio Disney while I draw. I have (on paper) created my own drawing style I call (at the moment) Toon! I have only 1 character made in this style... I love watching Gravity Falls, The PowerPuff Girls, Phineas and Ferb, and other shows... (they are classified...) I guess that's about it!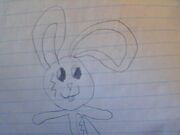 My DCFs!
cuteeveryday (or Cutie, she hasn't drawn since June 2013!)
PinkShimmer10 (or Pinkie) (yes, we are now DCFs!)
Brightgreengirl
Gumdropbraces
RedMonkey101?
Theyashd?
Mist (of course we can be friends!)
I guess that's it!
My thoughts on copying
I don't really like it, because you have to come up with things from your imagination, like I do! :)
Random Facts
I love llamas!
I'm on Team Unicorn!
My D-name uses a capital B, but in my art, I use a lowercase b.
I write a lot! (for instance, I've wrote out SOME episodes of my comic, The SPGs!)
I'm at times random...
I'm currently taking requests! (just look for the shark/whale on my page!)
I have lots of characters!
I'm a Harmonizer and a Directioner!
Character List!
SCs(not in order I made them in...)
Carri
Avery
Amber
Ell
Glitterbug
Berry
Mel (I guess...)
Kat
Britt
Coco
Mist
AND
Brooke
MLPs
Lightning Note
Spark Heart
Bubblegum Gears
Leaflight (that MLP I adopted from awesomeperson110)
AND
Unnamed alicorn...
PPGs
Glitterbug (me!)
Misty
Star
Emmie
Melody
Riley
Lil
Eri
Blairblossom (based on my penguin from CP!)
AND
Sarah