DandelionWinterglow is a semi-popular artist on DC who draws in the style of My Little Pony Friendship is Magic. She joined in 2010 before quitting in 2011, therefore making her permanent return in 2013 once again. 
Art
It is unknown to other artists if she is active or occupied. It could be also that her art is unapproved.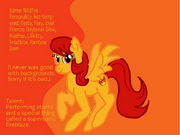 Wild Fire
When DW was active, she had a few characters that resembled "The Elements of Earthix", an idea she had come up with before discarding it when quitting. Her first OC was Wildfire - a gold pegasus with red hair and a fiery cutie mark. Her talent was later revealed in a contest that DW entered with full biography.
Frost Bite
Another known character is "Frost Bite" (See Frostbite disease. ), a unicorn with the rare gift of weather, consisting of mostly snow.
Flurry Flakes
Another OC Dandelion created was Flurry Flakes, similar to Frostbite, yet with a more, Fluttershy-like built in design.