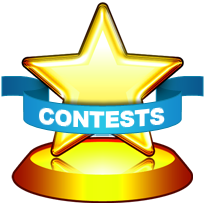 Contests were originaly started almost officially by earthgirl1001 when she had a PPG contest. She had the entries to be submitted to the art response section and judged the contest in a comic. This supposedly gave Disney Create the idea to make contests official because they were so popular. 
How to Create a Contest
If you would like to create a contest, click the contests page  on the top near the blue "login" button. Then, go to "Create a contest" and choose what painter to hold the contest in, draw your picture, and save. 
How to Create a Good Contest
Some contests on DC don't get many entries simply because the contest was not very appealing to others. To get a ton of entries, you need a good contest idea! You have to be very creative here. Try to think of something that has never been done before. Not everyone wants to enter a contest that they have seen 1,000 times. Be unique! Also consider the picture quality. If you have a sloppy picture, but a good idea, people still might not enter. The sloppy picture might drive contestants away. This may be hard for newcomer artists. Take DC_Artist for example. Yes, they are actually older and are the creators of DC, but they make very good contests. They have a good quality picture, and great ideas. Popularity also helps. Popular artists get more entries—not because of the contest, but because they are popular.
Popular Contest Ideas
Fashion Contest
Comic Contest
Look-a-like Contest
Fairy Contest
Sleepover Contest
Favorite Artist Contest
Favorite Food Contest
Random Contest
Seasonal Contests
Birthday Contest
New Look Contest
BF/GF Contest
BFF Contest
Mashup Contest
How to Enter a Contest
If you want to enter a contest, go to the contests section and just click the drawing of the contest you would like to enter. In the top right corner there should be a green button that says enter contest. Press it, draw your entry, save, and wait!
What to Include
When you create a contest, you may wonder, what should I put in it? These ideas are always optional, but give the contestants more info:
Open Statement
Prizes
Deadline (when the contest is over and judges have decided)
Rules
How to Choose a Winner
If you've created a contest yourself, and the deadline comes upon you, you should choose a winner. To chose a winner, find your top three favorites that you think deserve first, second, and third place. You could base it on creativity, drawing quality, suitability for your purpose, etc. Once you've found an entry for first, second, and third, drag and drop the picture into the squares on the left. After you've made up your mind, just hit finish.