Tuesday 18, 2014

Matt_Kate is on DC and she has 1275 fans and 21598 stars. These are her three websites that she go on.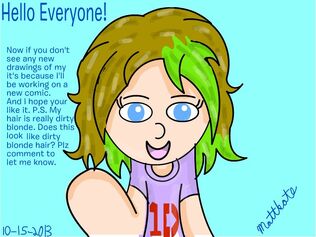 About Matt_Kate
She love to draw and some day She will like to be a artist when She grown-up. She also like One Direction, R5, Disney channel, Disney XD. She also like to hang out with her friends and some day She would like to learn how to surf. Her favorite colors are blue & purple & She also like science & P.E. She has been on DC for about 4 years but when She first went on She didn't draw that much. She is also shy so if She dose not know the person She dose not talk that much but if you know her She talk a lot.
Styles
These are some styles Matt_Kate draw in:
PPG
Gravity Falls
Chibi
Anime/Manga
Real life
sc
And a lot of other styles too
Mascots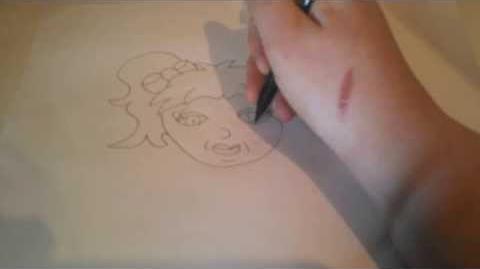 These are Matt_Kate's mascots.
Katie a.k.a. Herself
Apple Dash
Dreamy Note
Thunder Sketch
Blueberry
Lemon Lime
Cinnamon Swirl
Ashley
Abby
Sally
Bella
Zack
Don
Daylight
Lynn
Zoey
Emily
Kimi
Cassie
Magic talking animals
Matt_Kate has three and they are Melon, Grapy, and Bumble.
Matt_Kate's Mascots BFF
Jessica is partytimes1639's mascot & Arctic is snapdragon751's mascot.
Jessica & Zoey are BFF's
Arctic & Don & Daylight are BFF's
Virtual Friends
Matt_Kate's friends (not in order)
parttime1639
g-cat123
zuesdemigod2002
Fox70
Ketchup_Master
PokemonLoverXD
99Puppies99
BearPaw11
Teddyfluff19
MagicBanaana524
randompizza
XxAnimeYumizXx
rsbh
Thailia_Rocks
greenstarfish8
Guest472722029
triplecrazygirl
fuzzygirl9687
bellepo7
Art_Lover23
steven1523
lacee100
banananananananana
Yalipink
torybory
ROCKY-COOKIE
hollyek
applejack20
Disney_Create
KittyKatLove99
Theyashd
Mr_Bubbles38
Lucy100
weirdplace
AllyKat_11
lilybearylucky24
Maddie_Selena
Blase5768
BellaWolf101
adysonsuperfan
AnnKeeth
Taniam4
Starlightnemo
SolkRose
oumou975
BunniesRock12
LD1230
friendlygal9
Dreamy-wolf
LilyBlossom7789
happygal4eva
alwaysanimals
Ghoila9999
MGIRL232
Trending pages
All items (1)