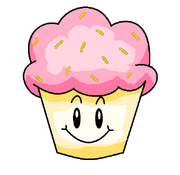 Okay, so I had an idea. Sorry, this isn't really related to Disney create, but there really is no other way I could do this idea! So, the contest is "MSN Paint Drawing" That is about it! To the right is my example that I drew on there!
Rules Of the MSN Paint Drawing contest
It does not matter what version of MSN Paint. (also just called Paint) Both are pretty much equally cruddy. Do you not know how to find MSN Paint? Or maybe you don't have it? Well, every computer comes with it. Well, at least I think it does. Go to the bottom left corner with your mouse, and click on something that may say "start" or maybe have a picture of the window's logo. Click that then search Paint and it will show up there.
Your pic can be anything. No copying, even though I imagine everyone here is mature enough to know that. Hmm, anything else? No innapropriate pictures or any swearing. Once you finish your pic, please add it to the slideshow. You may also put picture in the comments, in ADDITION of adding it to the slide show.
Slide Show
Add your pic here. Please do not put any other stuff in here that isn't for the contest. I CAN TELL IF IT IS PAINT SO DO NOT LIE!!!!! D: Have fun!
SAY WHO IT IS! :D