Line 11:
Line 11:
 
 
 

==Introduction==

 

==Introduction==

−

[[File:DC_wiki1.jpg|thumb|322px|A drawing of me in 3 different styles on DC]]

+

[[File:DC_wiki1.jpg|thumb|322px|A drawing of me in 3 different styles on DC]]

−

<p class="MsoNormal" style="margin-bottom:0.75pt;line-height:15.75pt;"><span style="font-size:10pt;font-family:Helvetica,sans-serif;">Hi, Disney Create wiki! As most of you know, I'm one of the many artists who has posted pictures on the popular</span> art-sharing website, Disney Create. As of right now, I have about 5950 fans and 411,200 stars. Currently, I've been posting pictures for just around 1 1/2 years, so I've seen three different layouts of the website, though the first layout I'd experienced was definitely the easiest to navigate and was also my favorite (and that had absolutely NOTHING to do with anything that matters). Okay, so I have no idea what else to put in this introduction, because everything else has categories to go into.</p>

+

<p class="MsoNormal" style="margin-bottom:0.75pt;line-height:15.75pt;"><span style="font-size:10pt;font-family:Helvetica,sans-serif;">Hi, Disney Create wiki! As most of you know, I'm one of the many artists who has posted pictures on the popular</span> art-sharing website, Disney Create. As of right now, I have about fans and ,200stars. Currently, I've been posting pictures for just around 1 1/2 years, so I've seen three different layouts of the website, though the first layout I'd experienced was definitely the easiest to navigate and was also my favorite (and that had absolutely NOTHING to do with anything that matters). Okay, so I have no idea what else to put in this introduction, because everything else has categories to go into.</p>

 
 
 

==Personality==

 

==Personality==

Line 63:
Line 63:
 

*Hawk Nelson

 

*Hawk Nelson

 

*Building 429

 

*Building 429

 
+

*Fireflight

 

==Interests==

 

==Interests==

 

Okay, so maybe this section is going to be a bit predictable.

 

Okay, so maybe this section is going to be a bit predictable.

Line 70:
Line 71:
 

Person: Hmm! I have no idea! What could someone on an art sharing website POSSIBLY like to do?

 

Person: Hmm! I have no idea! What could someone on an art sharing website POSSIBLY like to do?

 
 
−

Eh... yeah. Predictable, right? Anyway, I ''lovelovelove<u>'''LOVE'''</u>'' to draw! It's definitely my most favorite thing to do! I draw so much that people have seriously asked me, "Will you just stop drawing SO MUCH????" and "Do you EVER do ANYTHING else?" The truth is, I draw ALL THE TIME! I'm not even kidding! I doodle on all my school notebooks, I draw online, I draw offline, and I even draw right before I go to sleep! It can get a bit crazy xD! Obviously, though, drawing isn't the only thing I ever do. I love to write as well. After all, why else would I be adding so much into this description of myself? I've actually been working on a comic book for awhile now, and I've been having a lot of fun with it since it includes both of those elements. Since you've all seen my drawings, I may want to tell you a bit about my stories. There's always a whole bunch of dialogue, and in all they end up being pretty comical. Honestly, I'm HORRIBLE at writing anything that's deep or serious unless it's an expository writing for school. I also have a few side interests, but those really aren't much.

+

Eh... yeah. Predictable, right? Anyway, I ''lovelovelove<u>'''LOVE'''</u>'' to draw! It's definitely my most favorite thing to do! I draw so much that people have seriously asked me, "Will you just stop drawing SO MUCH????" and "Do you EVER do ANYTHING else?" The truth is, I draw ALL THE TIME! I'm not even kidding! I doodle on all my school notebooks, I draw online, I draw offline, and I even draw right before I go to sleep! It can get a bit crazy xD! Obviously, though, drawing isn't the only thing I ever do. I love to write as well. After all, why else would I be adding so much into this description of myself? I've actually been working on a comic book for awhile now, and I've been having a lot of fun with it since it includes both of those elements. Since you've all seen my drawings, I may want to tell you a bit about my stories. There's always a whole bunch of dialogue, and in all they end up being pretty comical. Honestly, I'm HORRIBLE at writing anything that's deep or serious unless it's an expository writing for school. I also have a few side interests, but those really aren't much.

 

==Likes :D==

 

==Likes :D==

 

*Trying out the "Diners, Drive Ins, and Dives" restaurants

 

*Trying out the "Diners, Drive Ins, and Dives" restaurants
---
Revision as of 00:21, 5 August 2013
I wear my heart on my sleeve. If you cut me I'll bleed. I know I cannot erase every mistake that I've made. I never said I was an angel, I never said I wouldn't break down. But life keeps on moving, but now you should know: I'm only human.
~Human by Manafest (love this song!)

You're not born with talent. You're born with the passion, and that passion is what leads you to bring that talent to light.
~Bo Bo Joe (Meee :P)
Introduction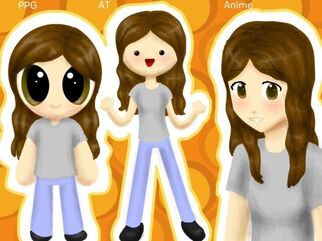 Hi, Disney Create wiki! As most of you know, I'm one of the many artists who has posted pictures on the popular art-sharing website, Disney Create. As of right now, I have about 6,400 fans and 428,200 stars. Currently, I've been posting pictures for just around 1 1/2 years, so I've seen three different layouts of the website, though the first layout I'd experienced was definitely the easiest to navigate and was also my favorite (and that had absolutely NOTHING to do with anything that matters). Okay, so I have no idea what else to put in this introduction, because everything else has categories to go into.
Personality
It's considerably difficult to express my personality on Disney Create, because anything that I've posted relating to my personality hasn't gotten approved. Anyway, I'll just describe it to you guys here :) I'm a very diverse person, as I have multiple pieces to my personality. I'm really crazy and humorous, for one thing. People tend to get really annoyed with me because of how sarcastic I tend to be sometimes, and I laugh at way too much (my laugh sounds really girly O.o). My sense of humor is really hard to explain, so just look at the gallery of memes I made :) On another note, I have a pretty short temper and can get irritated easily. However, I normally don't feel this way on the internet for some reason, and am very calm. I always try to come up with witty comebacks, but, unfortunately, I always mess them up whenever I talk. I'm also pretty shy once you first meet me, but once you become friends with me and get to know me, you'll just wish that I'd shut up. I'm also always correcting people's pronunciation, spelling, punctuation, and pretty much anything to do with grammar. If someone ever finds a mistake with mine, I feel pretty ridiculous. By this time, my sister has gotten pretty annoyed with this habit of mine. Online, though, I am a bit more easygoing, clever, and outgoing.
The basics of appearance and such
I'm a 13 year old girl, and my birthday is August 8th, 1999. On Disney Create, I am known by my brown eyes, light brown hair, and normally my black hoodie. These are pretty accurate to the really me, except for the fact that my eyes are a murky shade of Hazel. That's actually where I got my Original Sonic Character's name from (fun fact!). The brown looks a bit nicer, though, and it's kind of difficult to get the color for my eyes. My hair is also a bit more of a yellow-brown light brown (take dirty blond and make it darker looking). This is also because the color is harder to achieve. I always wear my hair in a ponytail, and I rarely take it out for no reason. My hair always gets in my face and won't stay behind my ears, so the ponytail seems most logical for me. It also has these waves in it, but that's not really noticable when it's pulled back. Some other details that aren't shown in my drawings are that I have big front teeth and pimples (I wash each day! Don't worry!), also to make drawing myself easier. My outfits on DC are the same as my actual outfits. I have 2 black hoodies, and during the fall, winter, and spring I wear them practically every day. And, no! They don't smell horrible! Anyway, when it comes to clothing I care much more about comfort than looks. I also like humorous shirts. Therefore, I mainly wear baggy shirts, pants, shorts, and both of my hoodies are pretty large on me. The only shoes that I like to wear are my sneakers, because they're the most comfortable shoes I own. Lastly, I dont' change up my body proportions AT ALL. I'm pretty skinny, and I actually in a sense made myself a bit more chubby on DC, since my arms and legs look quite a bit thinner in real life (but I still have healthy proportions! I'm not underfed or anything!). I'm also more of a tomboy than a girly girl.
Art styles
I have a lot of styles that I've used in the past, but there are 5 that I like to come back to again and again. These
are:
My main manga style (obviously). This is the most well known of all of my art styles.
My more original manga style. This is used for more fun projects that I don't take to seriously, as well as comics. I can express a lot of emotion in this style.
Sonic Character style. I rarely use this, but when I do it's normally for my OSC's, Hazel, Dan, and Colton.
Club Penguin style. I've been doing this one for the longest- over 4 years! I'm also best at this out of all my styles, but I still have significant room to improve.
Chibi style. I use these characters for adorableness and humor! You just can get so much expression out of their body language and facial expressions!
Reaction to copying my art
As I said in my personality section, I'm pretty easygoing online. For this reason, I give right to anyone who's fanned, or (in the case of YouTube) subscribed me to use my style of art. I dislike it when people copy the whole picture and style, though. I don't get ticked off for any of this unless the person has OBVIOUSLY copied me and hasn't done anything to show that they actually like my art. They just randomly come out of nowhere and start calling what I did their own, and I dislike that. Other than that, I'm more honored than anything that people like my art enough that they want to try the style as well! Thank you to all of those awesome people out there :D
Taste in music
I'm not a pop fanatic at all. I base music mainly off of the meaning of the lyrics (ermahgersh! I'm so deep :P), not the tune. Therefore, my favorite genre of music is Christian Rock/Pop, since I'm a methodist and the music has meaning. I can trust that it'll be clean, and that no cursing, drinking, unfavorable partying, and other disturbing elements will appear in it. I'm not saying that all pop music is like that, though! Some of it is really nice, I will say that. Here are just a few of my favorite artists/bands (not necessarily from the genre):
Royal Tailor
TobyMac
Switchfoot
Skillet
Jars of Clay (NOT like "I've got a jar of dirt" at ALL! xD)
Group 1 Crew
Plumb (not like the fruit or plumbing)
Manafest
John Reuben
Relient K
Mandisa
Brandon Heath
MercyMe
BarlowGirl
Newsboys
DC Talk
Sanctus Real
Hawk Nelson
Building 429
Fireflight
Interests
Okay, so maybe this section is going to be a bit predictable.
Me: Guess what I like to do!
Person: Hmm! I have no idea! What could someone on an art sharing website POSSIBLY like to do?
Eh... yeah. Predictable, right? Anyway, I loveloveloveLOVE to draw! It's definitely my most favorite thing to do! I draw so much that people have seriously asked me, "Will you just stop drawing SO MUCH????" and "Do you EVER do ANYTHING else?" The truth is, I draw ALL THE TIME! I'm not even kidding! I doodle on all my school notebooks, I draw online, I draw offline, and I even draw right before I go to sleep! It can get a bit crazy xD! Obviously, though, drawing isn't the only thing I ever do. I love to write as well. After all, why else would I be adding so much into this description of myself? I've actually been working on a comic book for awhile now, and I've been having a lot of fun with it since it includes both of those elements. Since you've all seen my drawings, I may want to tell you a bit about my stories. There's always a whole bunch of dialogue, and in all they end up being pretty comical. Honestly, I'm HORRIBLE at writing anything that's deep or serious unless it's an expository writing for school. I also have a few side interests, but those really aren't much. I'm also very much into the Harry Potter series :) 
Likes :D
Trying out the "Diners, Drive Ins, and Dives" restaurants
Summer
Drawing (no duh!)
Writing
My fans on DC and my Subscribers on YT (I love you all! :D)
My family <3
Kitties! :3
Sushi
Mushrooms
Cooked spinach
Green olives (I just put the foods in there because most people dislike them xD)
Chinese, Italian, and Mexican food
Funny pictures and videos
Harry Potter!!!!
The Warriors Series
The Hobbit
Okay, maybe just reading in general
Spring weather
Pencils (what would I do without them? :D)
Star Trek (trekkie for life!!!!)
Older shows, mainly between 1950 and the 1970's
Action, fantasy, sci-fi and comedy
There's more, but i'm just getting lazy :P 
Dislikes (I don't mean to offend anyone!)
One Direction (sorry, directioners!)
Sports (watching, playing, whatever! I just hate them in general xD)
Pointless songs
Trolls, rude people, something of the sort
Cursing
Twilight
Girly stuff
Bugs (I'm not deathly afraid of them, but they're ugly and creepy xD)
Snakes o_e
Large dogs
People who just post stuff to get likes or stars
Romance novels/movies
Homework
Random Facts
I get my personality from my family. We always like to joke around, but can be serious about something 5 minutes later. My sense of humor is also really similar.
I hate it when people think that art talent comes naturally! It drives me crazy, since they obviously don't know how often I practice drawing.
I have 3 cats, and I always have cat fur all over my clothing!
I'm a grade ahead in math, I'm in the advanced program at our school, and I'm going into Spanish III
I'm gonna be a highschooler (nooo!!!)
Hmm... I can't think of anything right now...
Questions and Answers
Have any questions? Ask away! I'll try to answer them :)