"Keep Online!"
-AmazingSierra133: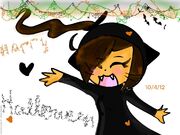 AmazingSierra133 is an anime and sonic character artist who has joined DC since September 2010. However, 
AmazingSierra133 has a disablitiy of hearing. She mainly draws Sonic more than anime. She has 580+ fans and 3211+ starts in total. She was featured artist in mid-2011.

AmazingSierrra133 is shy many times and she loves to make jokes and she is crazy about stuff like anime or VOCALOID. She shows her own creatives in many different ways!
AmazingSierra133 is still online on DC wiki as Neptune-chan (disabled account now sadly)
AmazingSierra133 is still online on Deviantart as Nepneru
Her artworks are more improved than ever than in DC!
She is so crazy about Homestuck
She loves to read manga/anime
Her fave character is Karkat!
When you see new artworks you might notice a small doll, it's Karkat! >:3
Someday she will makes her own cosplay as Terezi from Homestuck
She is libra
She is the BOSS!