Disney Create enthusiasts have discovered a way to access a Disney Create painter; it is the Pixel Painter. Disney Create Pixel Painter was an application ran by Disney Create. It was originally connected to Disney Create, but as DC's termination passed by, the application was never taken down. It is now accessible.  You can log in to your DC account and you can access your stamps. You can open up art you may have drawn on the Pixel Painter previously on Disney Create. You still cannot access your past art.
We assume that Disney took down the Pixel Painter because they saw this. It is no longer accessible
Disclaimer: This is not actually a 'remnant' of Disney Create. If you read Disney's FAQ about why they took down DC, they talk about focusing on mobile apps now, etc., etc. There is a mobile app called Disney's Pixel'D. If you look around, you'll notice that this painter is on that site, and it's just there for you to be able to test out some of the features on the app before you download it on your mobile device. It is not really related to Create, but it does have most of the same features.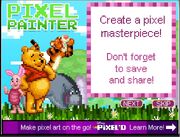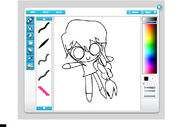 A feature accessible on the app is using various pens by pressing different number keys, and using the different keyboard commands, as written on http://disneycreate.wikia.com/wiki/DC_Cheats
A most common strategy for drawing on the app is pressing the number 1 key on the keyboard, and then using the original pen of DC.
You can, as stated above, use stamps, and create more. You can log in to access stamps you made before Disney Create was shut down.
The stamp painter is in the format of the old Disney Create, and the app is commonly used for solely the stamp painter because the painter itself cannot re-size or move selected areas adequately.
Trivia
To access the application, follow this link http://disney.go.com/pixeld/pixel-painter

You can log in on the application.

This is the only accessible DC painter going.

It is unknown whether or not Disney Online is aware of the pixel painter or not.

The Pixel Painter is NOT a sign of Disney Create's return, as it was accessible before Disney Create closed its doors.