123LoveLost
 is a former artist on Disney Create with 400+ fans and 7500+ stars.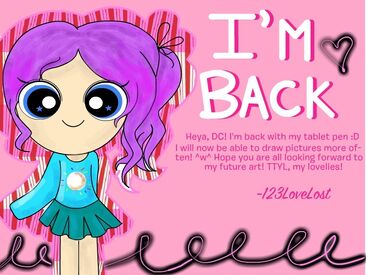 Styles of her Art
—PPG (powerpuff girl)
—Chibi
—Human-Manga combinations
Interests
—Drawing (traditional and digital)
—Bravest Warriors, Adventure Time, Spongebob Squarepants, etc.
—Disney
—Watching movies & TV
—Food
—The internet
—Music
—YouTubers like Shane Dawson, Cimorelli, Pewdiepie, Macbarbie07, CutiePieMarzia, etc.
—5 Seconds of Summer, Little Mix, Taylor Swift, Ed Sheeran, Imagine Dragons, OneRepublic, etc.
—Owls, Cats, Giraffes, Foxes, etc.
Mascots/Characters
Lovie (persona)
Connie
Summer
Clover (adapted from Mist566)
Nugget (Pet)
Appearance
My persona, Lovie, is shown with
However in real life, I actually have:
Brown hair that's so dark it looks black (super loooong)
Dark brown/hazel-ish eyes
Glasses ouo
FAQ
Q: Are you a mouse or a tablet user?
A: TABLET :D
Q: Can we be friends?
A: Yas of course x3
Q: Can you draw you and me?
A: It depends on my schedule. If I am free, I'll probably take weeks to finish.. so don't get your hopes up. lol
Rememberance Message
"Disney Create was an unforgettable experience for me. Being able to express myself in pictures and being able to share it with a community and get feedback... I never thought I'd find a website like such, but thanks to Disney.com, I did. DC's made me a better artist, and I've made so many amazing friends there. It breaks my heart to think that Disney Create is shutting down, since I've grown up with it. I remember when one of my pictures got 100 views for the first time, I literally flipped. Disney Create's given me many experiences that I will never forget <3 I thank DC for most of my art skills. If it weren't for that website, I wouldn't be as great at art as I am this day.  All the amazing friends I've made there, I thank you all for your support. I'll miss Disney Create like crazy. Thank you, for this long; but unforgettable; journey. ♡"
~123LoveLost♡
Contact Information
Ask me for my Kik if you have one ^w^